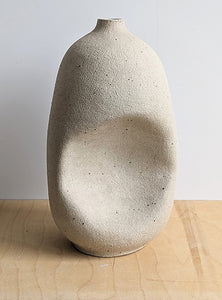 The Vase is inspired by a classic ceramic vase with a perfect shape - but this one has a big bump. Nothing is perfect!
Stylish as a sculptural piece of art in your home, or as a vase with a single flower.
Tecnique:
One of a kind
Hand built
Material:
Light stoneware with sparkling dark lava dots.
Glazed on the inside with mat transparent glaze, so it can hold water. 
Height
26 cm
Made and designed by Ulla Bang Jørgensen @ullabang_ceramics